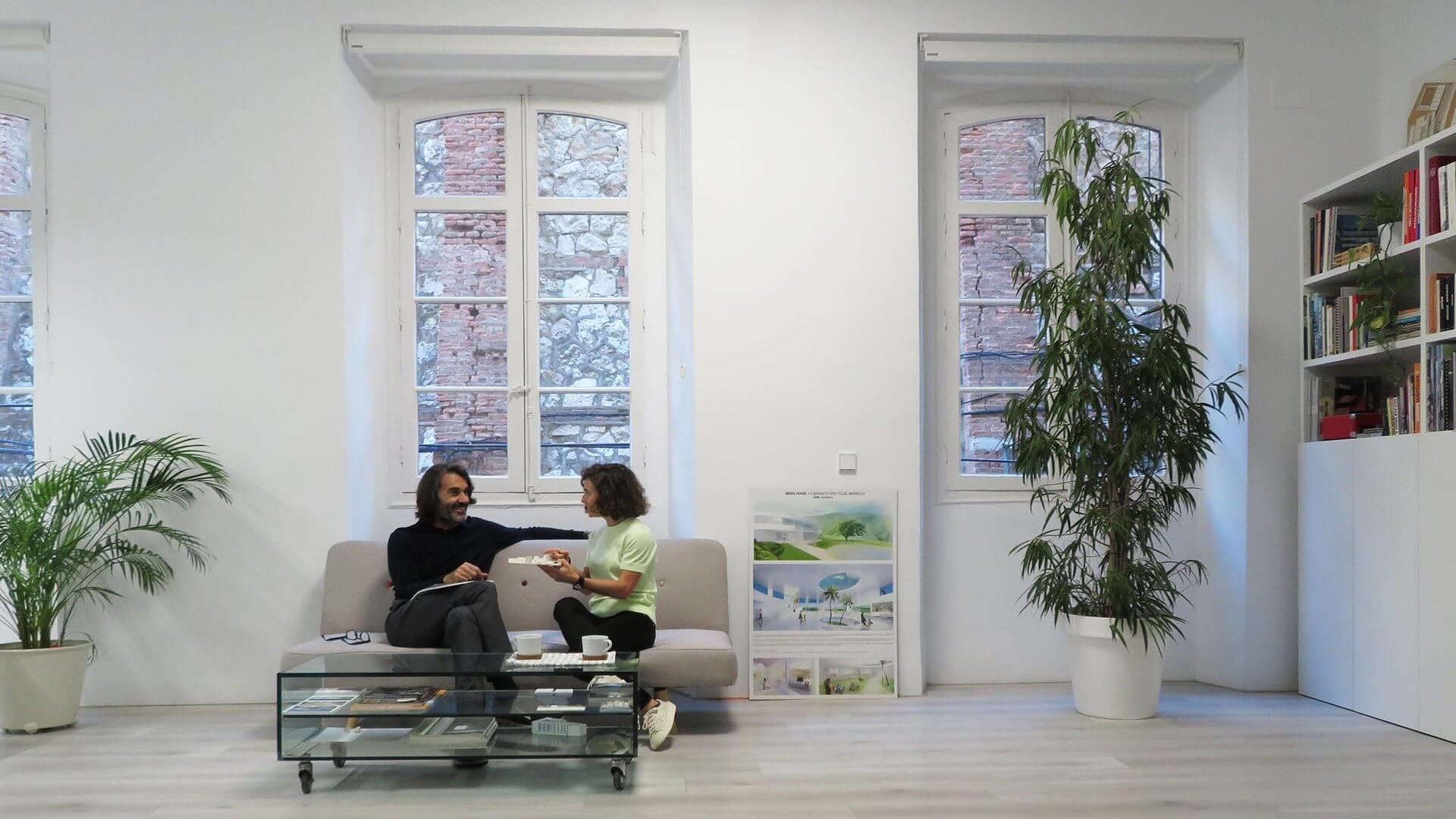 OAM ARCHITECTS Philosophy
At OAM arquitectos, we maintain a strong commitment to architectural quality and respect for the environment. We develop, from conceptual research, the creation of places with atmospheres that favor the well-being of its inhabitants.

Light, air and landscape are protagonists of the architecture, with nature in contrast to the built volumes, where interior and exterior enrich each other. Our training and international experience have given us a creative and innovative vision that we apply in the development of projects.

We are interested in all fields of architecture through which improving people's quality of life: an architecture whose essential design and environmental commitment run through the entire process, from the original idea to its realization.
Team OAM ARQUITECTOS
IÑAKI PÉREZ DE LA FUENTE
Architect (ETSA Sevilla-Harvard University 1992)
Iñaki Pérez de la Fuente graduated at Harvard University in 1992 in Cambridge, USA, after studying Beaux Arts in Málaga and Architecture in Seville and Venice. Returned to Spain in 1993 to begin its professional career and his teaching as Project Design Professor at the School of Architecture of Seville University. In this first period that goes until 2009 designed different buildings and public spaces, especially those for the Málaga City Center restoration, as Calle Larios, receiving the "Premio Ciudadanos" in 2005.
In 2009 with the architect Cristina García Baeza, founded OAM arquitectos, and since then have designed numerous housing projects for Public promotors and financial institutions (La Caixa) including single houses, schools, health centers, office buildings or the Roman Theater New Access and Landscape restoration promoted by the Málaga Town Hall.
In 2018 was awarded with the "Premio Década" by the Málaga Architects Professional Association.
He enjoys, along with architecture, the study of Japanese culture and language.
CRISTINA GARCÍA BAEZA
Architect (ETSA Sevilla-TU Graz 2010)
During her graduated studies in Seville School of Architecture and Graz University of Technology participated in several International Architecture Competitions and Workshops in Croatia, Portugal, Italy or Austria.
Her works during this period were exhibited in Biennale 11thArchittetura di Venezia and 8thBiennal Paisatge Barcelona.
In 2009 she moved to Málaga and founded with Iñaki Pérez de la Fuente OAM arquitectos where she developes her main projects for public and private promoters: housing, facilities buildings, landscape renovation and urbanism.
She enthusiastically introduces innovation and serenity to OAM designs.
Trail Running is along with Architecture itself her main passion.
From the outset OAM Architects has been made up of a widely professional team:
Elena Morón Ruiz, Rafael Iniesta Nowel, Aurelio Palomo Suárez, Helena Weber, Javier Figuerola Palacios, Juan Manuel Mateos Delgado,José Alberto Simón Montesinos, Daniel Natoli Rojo, Elsy Laucho Contreras,Marta Iglesias Rando, José García García, Marta Torres Fernández, Andrea Cabrera Cosano.

In addition to a network of collaborators: AF Landscaping; Alejandro Cabanas. Engineer; Alejandra Trigueros de la Cruz. Architect; Antonio Matás Moreno. Civil Engineer; C&F Civil Engineering and Project Managers; Estudio Salvaje; Fernando Medina Camacho. Civil Engineer; Jesús Granada. Photograph; Ipaelo. Web developer; JC Structure Engineering; 3.14 GA Facilities Engineers.

At OAM Architects we think that a highly-committed working group is the key to achieve the professional excellence.