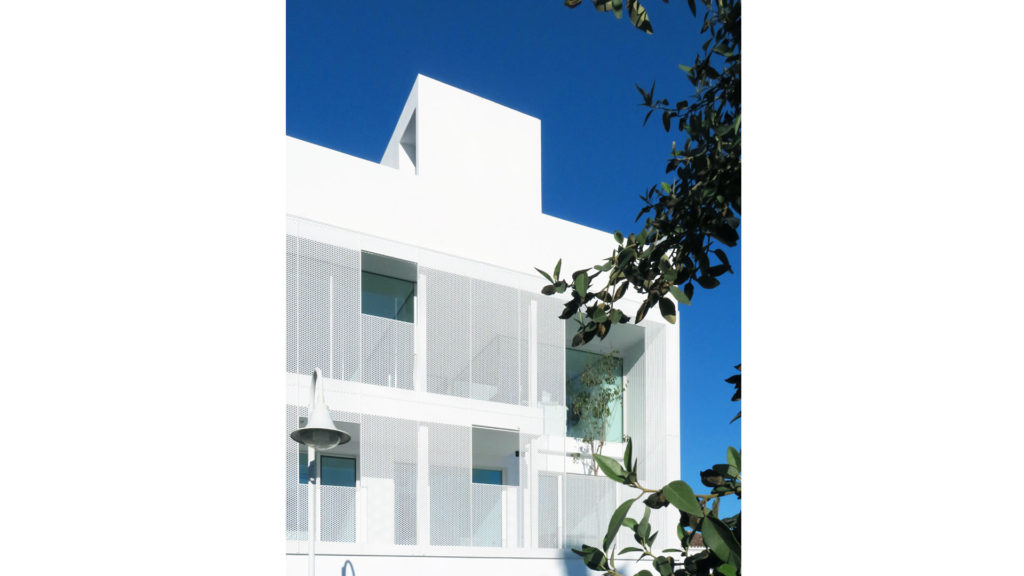 A HOUSE WITH A TREE
DESCRIPTION
Pacífico St. is one of the main thoroughfares on the Sea Shore Drive of the city of Málaga, to the west of its Historic Center, with large city facilities and leisure areas linked to the sea. Due to the singularity of the views and the presence of traffic in this important urban axis, the main objective of the project has been to introduce the views of the sea inside the house, maintaining the privacy of its inhabitants.
Together with four other plots, the house's plot will make up the southern front of the traditional protected residential complex "Torres de la Serna" from the mid-twentieth century. The project takes care of the scale while developing a contemporary image with a lattice-façade. Behind it, the different floors of the house develop semi-outdoor spaces, which filter the spaces of the Sea Shore Drive, cushioning the impact of traffic without giving up the views of the sea.
The house with Ground Floor + 2 and Attic is developed on four levels: Access and garage on the Ground floor, Night Area on the First floor, Day Area on the Second floor and Leisure and Pool on the Indoor floor. The relationship of each level with the outside is made through the perforated sheet metal façade lattice, with greater transparency in the upper levels. The bedrooms open onto a garden area with a tree, above it, a continuous space between the seafront and the rear terrace configures the day area. The penthouse with privileged views of the city landscape is the leisure and swimming area. A skylight beside the swimming pool allows crossed-views of the daytime area of the house.
TECHNICAL DATA
Architects: Iñaki Pérez de la Fuente + Cristina García Baeza
Collaborators:
Javier Figuerola Palacios. Architect
Antonio Matás Moreno. Civil Engineer
Structure and Facilities Engineering: Alejandro Cabanas Rodríguez
Location: Málaga
Area: 381,15 m²
Client: Privado
Construction Company: Construcciones Madrid
Project: 2022